Why did I want to develop a Yoga Warrior Crate?
I need to venture out into nature to breathe and unwind. I usually have a companion with me that always makes me smile as well – my pup, Rory. When I first started yoga, I realized the practice can bring you the same amazing feeling as being out in nature as well as the important benefit of keeping your body healthy.
After practicing yoga for a few years, I decided that I wanted to teach yoga to bring others that fulfillment and freedom through movement. I wanted to help my students bring a graceful spirit to their practice through intense and meaningful asanas. Feeling great inspires a motivation to continue to build and succeed in yoga and life.
Bringing Yoga Warrior Crate to Life
After becoming a teacher, I wanted to take the next step in spreading inspiration through Yoga and that is why I developed the Yoga Warrior Crate. Yoga allows you to bring focus to certain aspects of your life. This focus allows you to experience more healing and bring more meaning to each practice – especially if you center your focus on a positive intention. The Yoga Warrior Crate brings you an inspiration set in each box that will make your practice more meaningful.
Inspirational like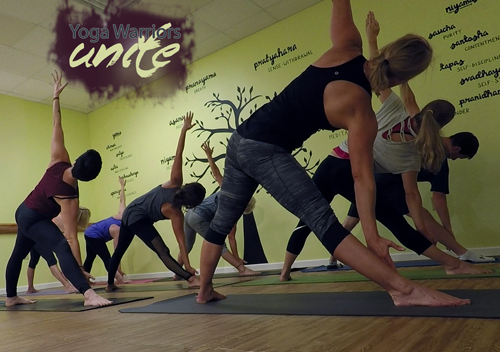 Compassion
Balance
Energy
No Fear
Stillness
Each crate opens up a totally unique and positive themed practice. The crate includes an engaging specialty item in each box that centers on the crate theme. We all need to bring a little extra creativity to our practice sometimes so each month includes an empowering yoga sequence that builds to a peak pose. Each of the other items you find in your crate will help to enhance the power of this intention in your practice – each box has an essential oil, a themed yoga tank, a yoga prayer flag, and a magnet set showing 5 poses, including the peak pose, that express your intention. Lastly, there is an after-workout snack sample and beauty item.
Why did I select to add these items to the crate?
Focus items – The themed item and yoga tank are the main features of the box – As an example, the Yoga Warrior Crate inspired by balance has yoga toe separators to help improve balance poses and a tank with the yoga to life (Build & Succeed in Yoga & Life) phrase –
Essential oils – smell is an amazing sense because it can bring back memories, emotions, and help you focus. So by practicing with an essential oil you explore and deepen your focus. Each time you bring back this scent to your practice or life you will remember the focus and positive feeling your practice brought you.
Prayer Flags –Prayer flags help to spread inspiration and good feelings to all. Each flag will be themed with the same inspiration as the warrior crate and after receiving all 12 crates you will have a whole set of prayer flags to share their positive energy and bringing more color to your outdoor space.
Magnet set – If you are a yoga enthusiast or teacher, you probably plan sequences and try to find asanas that flow together with graceful transitions. I spend a lot of time writing out ideas and then trying them and making changes. With the magnet set, you can easily arrange your poses until you find the perfect sequence. Each Yoga Warrior Crate contains 5 asanas as well as a fun superhero yoga pose magnet and sticker.
Mala Beads- Exploring meditation using beads helps you to focus and track mantras.
Food & Beauty – The other items in the box are to bring extra joy to your practice.
If you love yoga too and want to support bringing the power of yoga to others, you can support or order one box to give it a try, or if you already know you are in there are 4 and 6 month subscription levels.
I would love to hear your experiences of bringing a special intention to your yoga practice or how yoga has improved your health or wellness.